Cancer Rehabilitation Program at Mission Hope
---
Contact John Malinowski ATC, CET at 805.346.3413 with any questions or to get started today!
---
Mission Hope Cancer Center developed a Cancer Rehabilitation Program to help cancer patients in our community deal with the struggles of a cancer diagnosis by addressing many of the physical, psychological, social and emotional issues through physical activity and creating referral mechanisms to other health care professionals as specific needs arise.
The cancer center and the outpatient wellness center work in collaboration to provide this comprehensive 12 week exercise program. Initially, the program includes a number of evaluations to create the best individualized plan.
First, a fitness assessment by a certified Cancer Exercise Trainer, as well as the opportunity to complete a Distress Assessment to help identify if patients are in need of any psychosocial services.

Patients also complete a Pre- and Post- Questionnaire assessing their perception of functional ability.

Because we feel a strong symbiotic relationship exists between nutrition, exercise and overall wellness all participants are referred to the Registered Dietitian for a consultation to develop their personal nutritional plan.

Finally, a Physical Therapy evaluation is performed to screen for orthopedic concerns and perform a battery of testing to assess upper extremity muscular strength, endurance, fall risk and dysfunction of the arm and shoulder. Then upon completion of the 12 week exercise program a follow-up physical therapy evaluation is completed to re-assess the patients testing scores and ensure each patient achieves their individual goals.
Whether you are currently undergoing treatment or have completed treatment; if you currently have treatment related symptoms like fatigue, nausea, low energy, trouble sleeping, or muscle weakness there is a proven answer to these problems.
Numerous studies have shown these symptoms may be reduced with the implementation of a consistent exercise routine! The program consists of group exercise classes which encompass a generalized muscle strengthening routine for our major muscle groups, some balance activities, and end with stretching.
Each patient has the opportunity to work with the Cancer Exercise Trainer on various exercise equipment and small apparatus to meet your specific needs and goals.
We have a walking class, a golf group and an aquatic exercise class for more opportunity to connect socially while reaping the benefits of exercise.
So whether you are in treatment or you have completed treatment, you have never been in an exercise class or you have exercised your entire life the Cancer Rehabilitation Program can meet your needs!
Contact John Malinowski ATC, CET at 805.346.3413 with any questions or to get started today!
---
---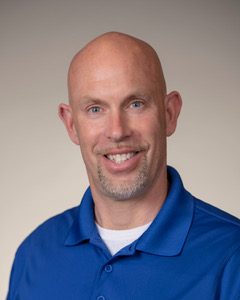 JOHN MALINOWSKI ATC, CET
John received his BS in Kinesiology from California Polytechnic State University San Luis Obispo in 2002. From 2002 through 2004 he continued his education at San Jose State University to pursue an MA in Athletic Training.He presented "Incorporating Applied Kinesiology Concepts into the Athletic Training Evaluation" to the Far West Athletic Training Association in 2004.He returned to San Luis Obispo in 2005 as the Athletic Trainer for Cuesta College where he was the staff member for the Students Pursuing Athletic Training club.He served as an associate athletic trainer for Allan Hancock College 2008 through 2012.He served as an adjunct faculty member teaching Introduction to Athletic Training and Rehabilitation and Modalities at Allan Hancock College in 2012.During 2013 he was a full time teacher at Paso Robles High School teaching the Health Careers ROP classes while serving as the Athletic Trainer for all the sports teams.He joined the team at Mission Hope Cancer Center at Marian Regional Medical Center in 2014.He collaborated with other health care professionals to establish the Cancer Rehabilitation Program.John became a Certified Cancer Exercise Trainer through the American College of Sports Medicine in 2015.He presented the Swing Thru Cancer class to the Association of Community Cancer Centers annual meeting in 2015.
John Lives in Arroyo Grande with his beautiful wife (Jenny) and two wonderful children (Joel and Jessa).John and Jenny enjoy running and have completed 9 Half Marathons, so far.