Offering Medical Oncology and Hematology at 2 Locations
---
Mission Hope Cancer Center | Santa Maria | 805-349-9393
Mission Hope Cancer Center | Arroyo Grande | 805-474-5310
---
Your Oncology Team
Diagnosing and treating cancer is complex. We use a multidisciplinary approach, which consists of different medical professionals to give you the best possible outcome. Your healthcare team meets twice weekly at Mission Hope Cancer Center for Tumor Board to discuss all cancer cases and share knowledge to determine the best possible treatment for our patients. Every patient receives an individualized treatment plan.
As part of our commitment to our patients we offer on-site, state-of-the-art Infusion Suites. Our infusion suite provides care for patients with cancer and other chronic conditions that require intravenous treatments and injections. Our team of highly trained chemotherapy certified oncology nurses work collaboratively with patients, families, physicians, and support staff to provide treatments and procedures in a caring and compassionate manner. Your oncology nurse helps to coordinate your care, provide education, answer questions and manage side effects.
A Medical Oncologist…
is a doctor who specializes in diagnosing and treating cancer using chemotherapy, hormonal therapy, biologic therapy, and targeted therapy.A Hematologist treats blood disorders and blood cancers such as leukemia and lymphoma. The Oncologist/Hematologist is the main healthcare provider for someone who has cancer.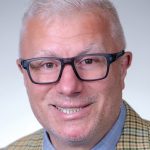 DR. KEITH AYRONS, MD
MEDICAL ONCOLOGIST
Dr. Keith Ayrons grew up on Long Island, New York, and completed his bachelor's degree in Biology at the University of Albany while volunteering at the local hospital in the Pathology department. His passion for science and early learnings in the experimental and clinical based approach inspired him to complete first, a Master's in Microbiology from Adelphi University and then his medical degree from Wayne State University. He then completed his Internal Medicine residency, and combined fellowship in Oncology and Hematology at Stoney Brook University.
In 1995, Dr. Ayrons joined a growing oncology and hematology practice in Gastonia, North Carolina, where he was a partner for 23 years. He is Board Certified in Medical Oncology, Hematology and Internal Medicine and served as past president of the Internal Medicine department. For 25 years he developed excellent patient and family relationship skills that created a loyal patient following.
In 2018, Dr. Ayrons relocated to the Central Coast and is excited to be a part of the Mission Hope Cancer Center where he can continue to fulfill his passion of serving the community through providing quality care.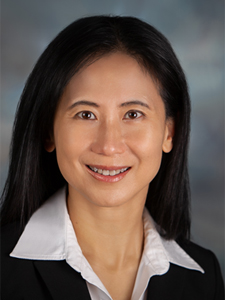 WEI BAI, MD
MEDICAL ONCOLOGIST
Dr. Wei Bai grew up in Beijing, China. In 1995, she graduated from Peking University Health Science Center (previously known as Beijing Medical University) with distinction. She then pursued graduate study in the United States. Upon receiving her master's degree in Molecular
Medicine from the University of Massachusetts Medical School in 1998, Dr. Bai joined a leading biotech company, Genentech, Inc., in South San Francisco to pursue her passion in translational research. She
participated in research and development of several cancer drugs, including trastuzumab (Herceptin), bevacizumab (Avastin), and erlotinib
(Tarceva), among others in the company pipeline.
Excited to bring bench research to bedside practice, Dr. Bai ultimately transitioned to direct patient care in 2005. She completed her Internal Medicine residency at NewYork-Presbyterian Lower Manhattan Hospital in 2008, which included several months of clinical rotation at Memorial
loan Kettering Cancer Center (MSKCC). Dr. Bai's experience at
MSKCC further enforced her commitment to oncology research and practice. She proceeded to a combined Hematology and Medical
Oncology fellowship at Lombardi Comprehensive Cancer Center of Georgetown University in Washington DC from 2008 to 2011.
After her fellowship, Dr. Bai practiced hematology and medical oncology in the Samaritan Health System in Oregon. During her nine years with Samaritan, she treated patients with a wide range of cancer types and blood diseases. She served her patients with PRIDE — passion, respect,
integrity, dedication and excellence. Dr. Bai was also active in clinical trials and resident education.
Since 2020, Dr. Bai joined the team at Mission Hope Cancer Center. Compassionate and calm, she is devoted to each individual patient's needs and goals.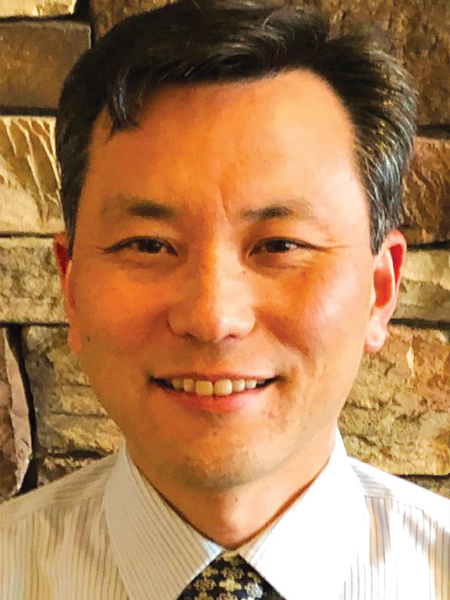 Kevin Kim, MD
MEDICAL ONCOLOGY
Kevin Kim, MD, grew up in the Seattle, Washington area. He obtained his undergraduate education at the University of Chicago and attended Tufts University in Boston, Massachusetts, for his medical degree. He received training in Internal Medicine residency and Hematology/Oncology fellowship at Scripps Clinic/Green Hospital in La Jolla, California.
After completing his training in 2010, he joined Kootenai Clinic Cancer Services in Coeur d'Alene, Idaho. He was instrumental in achieving the Cancer Center's prestigious National Accreditation Program for Breast Centers (NAPBC). As well, he is a strong proponent of clinical trials to improve patient care.
Dr. Kim strives to balance his experience and knowledge of individualized cancer care with a deep empathy and compassion for his patients. He believes in building a partnership with his patients. Additionally, he supports patient education that optimizes patients' understanding of their disease and treatment options.
He comes to the Central Coast with his beautiful wife, Anna Kim, MD, and two amazing children. He enjoys many outdoor activities, such as surfing, fishing, golfing, skiing and hiking.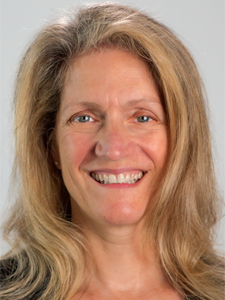 April Kennedy, MD
MEDICAL ONCOLOGY/HEMATOLOGY
Board Certified in Medical Oncology, Hematology and Internal Medicine, Dr. Kennedy provides compassionate care for patients at Mission Hope Cancer Center, and works collaboratively with all departments to provide patients with all aspects of cancer care. Dr. Kennedy is able to offer patients the most advanced treatment with enrollment in cutting edge clinical research studies. She has years of experience in the treatment and diagnosis of all cancers and provides her patients with individualized care for the best possible outcomes.
An educator at heart, Dr. Kennedy has a passion for teaching her patients about their disease and how their treatments work. Understanding a disease is empowering for the patient and can remove some of the fear associated with a cancer diagnosis.
Dr. Kennedy received her medical degree from the University of Oklahoma. She completed her Internal Medicine residency at the University of California Davis, and Hematology-Oncology fellowship program at the University of Oklahoma Health Sciences Center-Stephenson Cancer Center.
As an experienced principal investigator on numerous clinical trials for cancer therapies, Dr. Kennedy has published her findings in national medical journals, and puts her research knowledge into practice when treating patients.
A nurse practitioner (NP)…
is a highly trained clinical professional.They are registered nurses with advanced training and education.Nurse practitioners work along side physicians and can diagnose and treat illness, order x-rays and lab work, write prescriptions and manage a patient's care.At Mission Hope we are invested in making you feel comfortable, cared for and healthy and a nurse practitioner is an excellent addition to our team.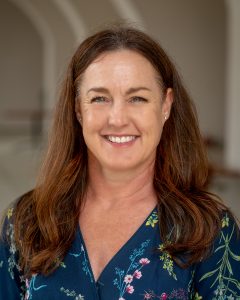 TRACY TILLEY, NP-C
NURSE PRACTITIONER
Born and raised on the central coast, Tracy Tilley, NP-C, attended AGHS and Cal Poly where she studied Nutritional Science. After graduation, she moved to Colorado with her college sweetheart where she became a Registered Nurse in 2006. She then went on to receive her Masters Degree in Nursing from the University of Colorado in 2017 with an Adult and Geriatric Nurse Practitioner emphasis.
She was drawn to oncology after her father was diagnosed with cancer, and she went on to become an Oncology Certified Nurse. In 2009 she joined a community-based hematology and oncology practice in Colorado where she eventually became their lead chemotherapy infusion nurse and later their Nurse Practitioner. Her personal and professional experience working closely with patients allows her to provide comprehensive and compassionate care.
Outside her career she enjoys spending time outdoors. Tracy trail runs and has completed several high altitude ultra-marathons; she also enjoys camping, hiking and going to the beach with her husband and their two dogs.
Tracy is excited to be returning to the central coast to be close to friends, family, and to join Mission Hope Cancer Center. Collaborating with physicians and the rest of the multidisciplinary team will allow for increased access to exceptional care, allowing patients to stay close to home on the beautiful central coast.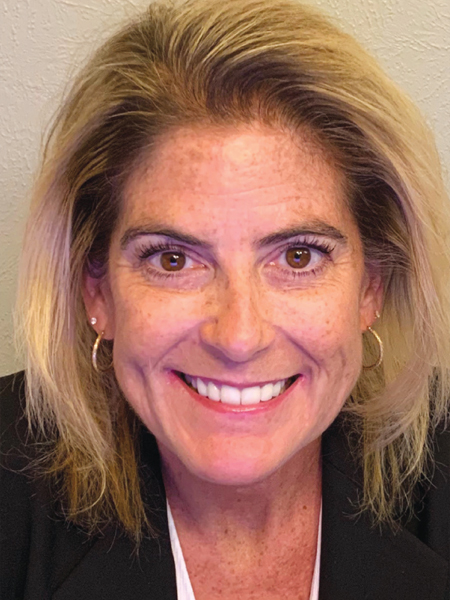 Ginger Carmichael, MSN, OCN, AGNP-BC
NURSE PRACTITIONER
Ginger's goal is to be an integral component in the care of her patients and their families. While some of her focus shifted over the years with regard to the area of medical expertise, the desire to provide care and dedication to the best of her ability has never changed. This is a focus that has led her through a number of helpful professions and specialties. She has worked in family medicine, emergency medicine, and critical care medicine until she landed in oncology. Once there she knew that she had found her niche. She has spent over 30 years working in medicine and over half of those working in oncology as an oncology certified nurse.
Ginger's education began at an early age tagging around after her family doctor and peppering him with questions to increase her understanding of the work that would eventually lead her to become a Nurse Practitioner. She has completed her undergraduate and postgraduate education at the University of Colorado and has continued to learn and grow since then in her chosen profession. Her goal to work in a community oncology practice that focuses on care and compassion has led her to Mission Hope Cancer Center. Here, she looks forward to playing a pivotal role in the care of patients and their families.
In her spare time, she plays competitive billiards, golfs, exercises and spends time with her family of her husband and two furry pillows that eat—otherwise known as cats.
A physician assistant (PA)…
is a highly educated medical professional who collaborates with your medical oncologist to diagnose illness, develop and manage treatment plans, prescribe medications and tests, and can serve as a patients principal healthcare provider.Physician assistants work in all medical specialties to improve healthcare access and quality care.At Mission Hope we are committed to your care and a physician assistant is an excellent addition to our team.