Proper Nutrition Is Essential For Living Well During & After Cancer Treatment.

---
Kylie Conner RDN is available at both Mission Hope Locations – Call to schedule an appointment
Santa Maria | 805-346-3403
Arroyo Grande | 805-474-5304

---
Proper nutrition is essential for living well during and after cancer treatment. Dietitians are the nutrition experts who can help people understand proper eating for their specific conditions.Our registered dietitian provides informative classes and one on one counseling to help people feel their best.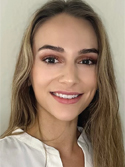 Kylie Conner, RDN
REGISTERED DIETITIAN NUTRITIONIST
Kylie is a health and wellness enthusiast that has a passion for helping the body heal from within. Her "food is medicine" mentality began in childhood as she watched loved ones take control of their chronic illnesses through dietary and lifestyle changes and felt empowered. This ultimately drove her to seek out a formal education in nutrition.
Kylie completed her BS in General Dietetics at California State University Chico while graduating with honors. She then went on to complete a rigorous dietetic internship through the Department of State Hospitals, Atascadero while simultaneously starting her own private practice business. In this clinical setting, she was exposed to the rewarding realm of Oncology Dietetics and fell in love with both the patients and the science involved. Kylie finds working with this patient population to be among the most rewarding fields for a nutrition professional and is excited to begin a lifelong journey as an Oncology Dietitian.