Offering Radiation Oncology
---
Mission Hope Cancer Center | Santa Maria | 805-925-2529
---
Your Oncology Team
Diagnosing and treating cancer is complex. We use a multidisciplinary approach, which consists of different medical professionals to give you the best possible outcome. Your healthcare team meets twice weekly at Mission Hope Cancer Center for Tumor Board to discuss all cancer cases and share knowledge to determine the best possible treatment for our patients. Every patient receives an individualized treatment plan.
A Radiation Oncologist…
is a doctor who specializes in treating cancer using radiation therapy.
DR. CASE KETTING, MD
RADIATION ONCOLOGIST
Dr. Ketting was born and raised in Southeast Asia, the son of American & Dutch physicians who chose to spend their career in mission hospitals. After moving "back home" to the United States, Dr. Ketting completed a degree in electrical engineering at Walla Walla College and his M.D. at University of Washington in Seattle. His technical background and interests led him to seek out a medical specialty where he could apply those skills, yet "still have my own patients". On completing specialty training in radiation oncology at Loma Linda University in Southern California, he participated in the burgeoning technical growth of radiation oncology through a two year software research fellowship back at University of Washington.
While a research career was appealing, Dr. Ketting found patient care too enjoyable to return to the research lab long term. He returned to clinical practice as adjuct faculty for Loma Linda University in Glendale, then served as Medical Director of St. Jude Medical Center's radiation oncology department in Orange County for seven years. Dr. Ketting has practiced in Santa Maria since 2009.
At work, Dr. Ketting enjoys his patient relationships, his skilled and dedicated staff, and the intricate task of using technically sophisticated radiation equipment to fight cancer. When not at work, he loves playing papa to his twin daughters, traveling with his wife, Jolene, & flying his "little, old airplane", a 1948 Navion.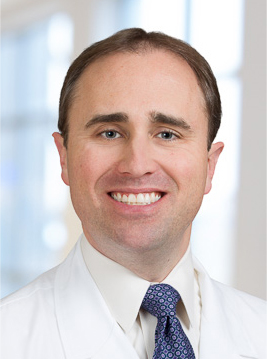 J. Ben Wilkinson, MD, FACRO
RADIATION ONCOLOGIST
Ben Wilkinson, MD, is a board-certified radiation oncologist who specializes in the treatment of all cancers including prostate, breast, lung, and brain tumors. Dr. Wilkinson is a proud alumnus of both Texas Christian University and Texas A&M College of Medicine. He completed his medical internship at the University of Maryland and his residency at William Beaumont Hospital in Michigan.
One of the focuses of his medical practice is providing care that is consistent with national guidelines and scientific literature.
Dr. Wilkinson has contributed to clinical research through authoring or co-authoring more than 30 peer-reviewed publications. He has presented his research at multiple national meetings and is cochair for the American Society for Radiation Oncology and the American College of Radiation Oncology membership committee.
Dr. Wilkinson enjoys helping the under-served and sits on the board of the Radiating Hope Foundation, a non-profit that provides radiation treatment equipment to developing countries including Panama, Senegal, and Nepal.
Dr. Wilkinson and his wife Laurin grew up in San Diego and moved around the country quite a bit before planting roots here on the Central Coast. They have three daughters, Brinkley, Elley, and Natalie, and are actively involved in their church. Dr. Wilkinson enjoys attending Bible Study Fellowship and giving back to the community.