Offering Radiation Oncology
---
Mission Hope Cancer Center | Santa Maria | 805-925-2529
---
Your Oncology Team
Diagnosing and treating cancer is complex. We use a multidisciplinary approach, which consists of different medical professionals to give you the best possible outcome. Your healthcare team meets twice weekly at Mission Hope Cancer Center for Tumor Board to discuss all cancer cases and share knowledge to determine the best possible treatment for our patients. Every patient receives an individualized treatment plan.
A Radiation Oncologist…
is a doctor who specializes in treating cancer using radiation therapy.
DR. CASE KETTING, MD
RADIATION ONCOLOGIST
Dr. Ketting was born and raised in Southeast Asia, the son of American & Dutch physicians who chose to spend their career in mission hospitals. After moving "back home" to the United States, Dr. Ketting completed a degree in electrical engineering at Walla Walla College and his M.D. at University of Washington in Seattle. His technical background and interests led him to seek out a medical specialty where he could apply those skills, yet "still have my own patients". On completing specialty training in radiation oncology at Loma Linda University in Southern California, he participated in the burgeoning technical growth of radiation oncology through a two year software research fellowship back at University of Washington.
While a research career was appealing, Dr. Ketting found patient care too enjoyable to return to the research lab long term. He returned to clinical practice as adjuct faculty for Loma Linda University in Glendale, then served as Medical Director of St. Jude Medical Center's radiation oncology department in Orange County for seven years. Dr. Ketting has practiced in Santa Maria since 2009.
At work, Dr. Ketting enjoys his patient relationships, his skilled and dedicated staff, and the intricate task of using technically sophisticated radiation equipment to fight cancer. When not at work, he loves playing papa to his twin daughters, traveling with his wife, Jolene, & flying his "little, old airplane", a 1948 Navion.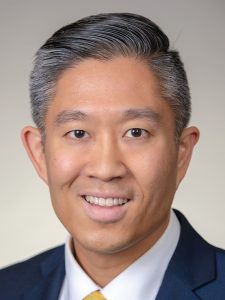 DR. JEFFREY WU, M.D.
RADIATION ONCOLOGIST
Raised in Virginia Beach, Virginia, Jeffrey Wu, MD, graduated cum laude majoring in Chemistry and Biology from Duke University, where his fascination with the sciences (and Duke basketball) flourished. But it was not until he had hands-on experience participating in the healing process while volunteering at a free medical clinic and addiction recovery center that he realized his love of the sciences could transcend the classroom and foster relationships that bring true joy and recovery. He took this passion to the West Coast, where he received his MD from UCLA and had the privilege of being inducted into the prestigious Alpha Omega Alpha medical honor society. He remained in Los Angeles to complete an internship at Harbor-UCLA Medical Center and an additional four years of dedicated radiation oncology training at UCLA.
During his residency, he gained expertise in emerging technologies such as Stereotactic Body Radiotherapy (SBRT) and Stereotactic Radiosurgery (SRS) while laying a foundation in general radiation oncology. He has been invited to present his research at various national and international conferences, and he has published numerous peer-reviewed articles as well as a recent book chapter on radiation therapy for elderly patients. He was honored to serve as Chief Resident during his final year. Dr. Wu is thrilled be a part of the Coastal Radiation Oncology team at Mission Hope Cancer Center, where he aims to use his knowledge and training to deliver the best possible compassionate and evidence-based care to patients.